Today I'm hear to tell you a story, only my roommate in college knows. A story T has never heard. A story a lot of girls (or maybe it's usually guys) have from college -- or at least when you do when you went to a college that was smaller than your high school (less than 1500, y'all).
The time I called "dibs".
There's an unspoken girl code rule that states best friends canNOT like the same guy. It just doesn't work. The guy usually ends up not worth it, and you almost lose your best friend. Either way you look at it everyone loses.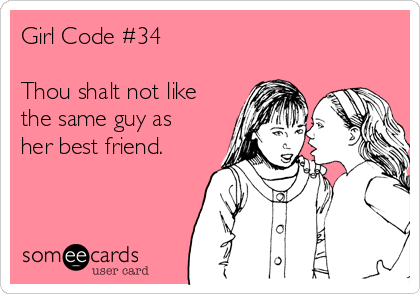 I survived 20 years without ever running into a situation like this. I've never been interested in the same guy as one of my best friends; that is until my junior year in college. Introducing Mr. Persistent.
My junior year of college my roommate (and best friend) had a crush on the same brown-eyed ginger.
My roommate and I met Mr. Persistent at a party fall of my junior year. I was immediately drawn to him; brown eyes on a ginger who's ever heard of such a thing?! Not to mention when I started talking to him I was even more baffled when he told me he doesn't drink. "Then why are you at a party?" It's a wonder I didn't sweep him off his feet right then and there. ;)
We ran into each other several times (small campus remember) in a matter of two weeks. Then unthinkable had happened. On the way to return a movie we had somehow borrowed, I confessed to my roommate I thought Mr. Persistent was really cute. Her response? "Me too!"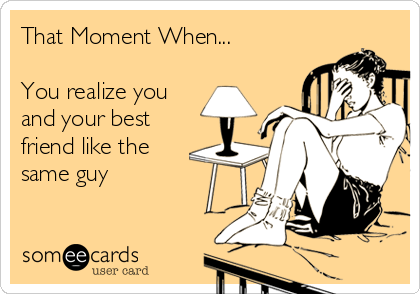 I wasn't even sure how to handle it. When we got there my chatty, outgoing roommate just talked away as I sat there speechless, pouting over a broken girl code rule. Then for several months we didn't see or talk to Mr. Persistent. If I can't have him, then neither can you.
Fast forward several months

fiveish

and we've been reunited with Mr. Persistent at the baseball house. Time to deal with our dilemma.
My roommate suggested we play the dibs game.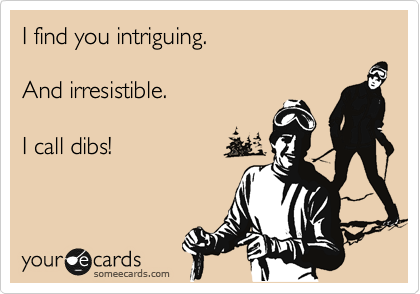 Side note: we had a friend in college who called "dibs" on guys all. the. time. So much, in fact, that she would call dibs on multiple guys each weekend; no guy was safe! It was quite entertaining actually.
Suddenly we were in the same room as my favorite brown-eyed man, and I leaned over to my roommate and whispered, dibs. We both laughed, and my roommate claimed "dibs" on some other baseball player she thought was pretty cute.
The guy my roommate called dibs on ended up hugging the porceline throne that night. Mine?...well let's just say that I've permanently called dibs on him. ;)
Moral of the story:

never break girl code, that is unless you're going to marry the man and your best friend has decided she doesn't fancy him anymore, of course.