This is a sponsored post written by me on behalf of Chiquita Banana for IZEA. All opinions are 100% mine.
I love getting gifts as much as the next person. Every time I get something in the mail I do a little happy dance (tell me I'm not the only one); even if I bought it myself -- it's like a surprise present in the mail. Any snail mail fans out there?
Something I love
more
just as much? Giving to others. I've signed up for several swaps this Christmas and
can't
wait to start picking out all of those gifts for my swap partners. But even better than that, I love baking for my family and friends. Nothing is better than a gift made with love,
except winning contests
like the
#ChiquitaCookingLab
. ;)
And so today I'm sharing with you a gift from the heart, that your loved ones, friends, and co-workers will fall in love with.
Seriously, my family was raving about this bread for days.
What's better than banana bread? Practically nothing, until I discovered this version. Banana Pear Bread, not to mention it has chocolate. Are you sold yet?
One thing I love about this bread is how moist it is. It is not a dry bread at all. And I really think the pear and cinnamon in this recipe elevate it to taste like the holidays in a loaf.
What you'll need:
+ 3 Bananas (very ripe), mashed
+ Canned Pear Halves, drained and chopped (roughly 5 small halves)
+ 1 tsp Cinnamon
+ 1/2 cup of Dark Chocolate Chips
+ 3/4 cup of Sugar
+ 1 Egg
+ 1 1/2 cups of Flour
+ 1 tsp Salt
+ 1 tsp Baking Soda
+ 1/4 cup of Vegetable Oil
+ 2 tbsp Sour Cream
What you do:
preheat the oven to 350 F degrees.
1. Mash the bananas in a large bowl. Mix in eggs, sugar and oil. Stir well.
2. In a separate bowl, combine all of the dry ingredients.
3. Slowly add in dry ingredients into the banana mixture. Stirring throughout.
4. Chop the pear halves; then fold in the chopped pears and chocolate chips.
5. Grease, banana pan and bake at 350F for 30 minutes. Then lower the oven to 250F and continue to bake for 25-30 more minutes.
Not only am I sharing a gift idea for you to use this holiday season. But I want to give you the chance to win BIG too! What better timing than to win $4000 right before the holiday season hits full force with the
#ChiquitaCookingLab
?
Chiquita is having a
Cooking Lab Contest
that goes until November 24th.
And it couldn't be easier to enter!
Contest entry is easy! Simply submit your recipe on the contest website (
Chiquitabananas.com/cookinglab
) or through the official Chiquita FanFun app. You can enter a new recipe every week, if desired!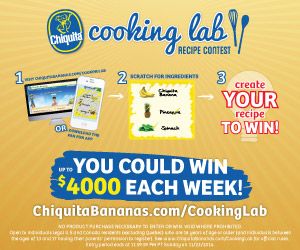 In fact, I'll be entering this recipe as we speak. $4000 come to momma!
And you best be creating and entering to win the same!
Enter your recipe here!
What is your favorite treat to give around the holidays? What is your favorite type of bread loaf to make/eat? Do you prefer gifts from the heart or from the store? ;)
Linking up with:
Create Link Inspire
,
Turn It Up Tuesday
,
Let's Be Friends Blog Hop
,
Tuesday's Table
,
Do Tell Tuesday
,
Whatever Goes Wednesday
,
Whimsy Wednesday
,
Wildly Original Party
,
Work It Wednesday
,
Worthwhile Wednesdays,
The Pin it Party
,
Treat Yo' Self
,
Thinking Out Loud