Life is truly better at the beach y'all. Something about the sunkissed skin, care free, slow paced life just fills my heart with happiness and renews my soul. Andd even though I just spent last week at the beach, Monday this girl will be beach bound once more. A week trip with T & his family. I canNOT be more excited. A whole week with Thomas + the beach...ahh life is good.
One can simply not take too many beach trips. It's not possible.
side note: the summer after my freshman year in college my best friend and I took 5 beach trips.
So today I'm here to share with y'all my beach essentials. You can bet your bottom dollar these five items will be in my beach bag. But this edition is a "wish list" version of my beach essentials.
+ Beach Towel. I'd prefer a monogrammed towel to sport at the beach. But for now I'll have to settle with "window shopping" & hoping that these will show up in my beach bag by Monday. See here, here & here (pictured: here).
+ Sunglasses. How cute would these be? One | Two
And what sunglasses would be complete without a customized croakie? Yes, please (I actually don't own any croakies but I'd love to own some)! One | Two
+ Bathing Suit. Obviously, right? But I'd LOVE to own a monogrammed bathing suit, and this one is too incredibly cute!
+Monogrammed Cup/Koozie. Gotta stay hydrated, do so in style.
One | Two | pictured
+ Workout Gear. If you fail to plan, you plan to fail. I plan on keeping with my workout routine while on vacation (if I didn't, I'd never workout. I have vacations planned every other week); therefore I need to be prepared. Plus this is a perfect time to show off some of my cute, new workout gear.
One | Two | Three | pictured
+ Extra Item: a book. Seriously, I could not take a trip to the beach without a book or two (at least). The beach is where I get my best reading done. What's better than getting lost in a good book while soakin' up the sun? Nothing. Fact.
Currently I'm reading A Moment of Weakness by Karen Kingsbury -- SO GOOD!
In summary, "I'll take it monogrammed please." What is one of your essentials for the beach? What must-have item is your favorite? Did I leave a crucial essential out? What is your favorite summer time read?
ps. Don't forget to enter the giveaway going on!
Five on Friday, H54F, That Friday Blog Hop, Friday Favorites,
Five things Friday,
Monday Must Haves
,
Monday Bloom
,
Trend Spink Linkup, What I Wore, Tucker Up,

The Hump Day Blog Hop

,

Random Wednesdays, I Feel Pretty, Lovely Thursdays, The Little Friday Link Up,
Thinking Out Loud
,
Fashion Friday
,
Fashion Informant Friday
Say hello to this month's sponsor, Denise.

Other posts you may enjoy:
Keep Calm & Run On: 6 Fitness Tips for the Average Woman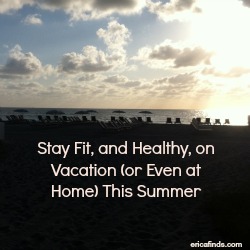 10 Tricks & Tips for Staying Fit & Healthy on Vacation