As if you haven't noticed on
Instagram
by now, I am soakin' up the sun this week with my best friend. There's something about a beach trip that makes you feel like you have no responsibilities or cares in the world. Reality is probably gonna slap me in the face in a couple days. I'm okay will putting off my cares & anxiety for a week, but there is something that can't be pushed aside every time I take a summer vacation...
working out.
Why is it that all winter we eat like summer will never get here?
Then in January or February we realize that summer will actually come like it always does, but it's not until March that we actually kick our booties into high gear.
And then come that first vacation in June I almost always fall of the working out band wagon and I fall
hard.
It's so hard for me to eat healthy and stay on track during a vacation.
But lucky for you (and me!) I have Erica, from
Erica Finds
, here today to give us her
top 10
tips & tricks on how to stay fit and healthy on vacation.
Take it away Erica...
Travel can disrupt even the healthiest person's fitness and eating routines. Summer vacations don't have to mean weeks of dieting and exercise when you get home to "make up for lost time." There are some simple tips and tricks you can take with you to come back refreshed and as fit as when you left! Do a bit of prep and research in advance and you are all set!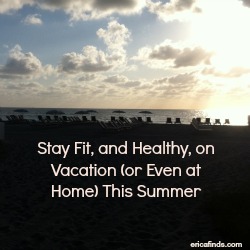 Top 10

Tips and Tricks for Staying Fit and Healthy on Vacation
When at all possible WALK! Or take in some sights on a morning run. Most hotels have maps and some even have running concierges. You can look up safe routes online in advance, too.


Wear comfortable shoes. When "literally" in Rome, don't look like a tourist, there are tons of cute, comfortable walking shoes to be had.


There is "an app for that." Use a fitness app like Hot 5 Fitness, 7 Minute Workout or a yoga app to get 15 to 30 minutes of exercise a day if possible. Or do some push-ups, crunches and a minute of plank. Something is better than nothing!


Dance!


If you are in a mountainous area, try hiking. If you are at the beach, try Stand Up Paddleboarding. Do a little research and see what the locals are into and then try it. I always look for running races, too. I did an awesome trail run in Cincinnati recently and my friend even ran a 10K in Russia! There are some websites that can help you find races and other sports activities like Cool Running and Active.


When choosing a hotel, check to see if the location is safe for walking, or has a gym, before you book.


When it comes to food, try everything in moderation. Eat what is local, try lots of dishes, but don't eat like this is the last time you will ever eat. In this global world, you can get most specialty foods in major cities or online. Consider buying a cookbook and bring back the spices you need to make authentic recipes. If you are in the US, use sites like Healthy Dining Finder or Ramblen to find healthy choices.


Bring snacks like all natural energy bars, nuts and dried fruit for the trip. Airport and airplane food can be super high in fat, calories and sodium and it usually is not "worth it!" This is true of car trips, too.


You don't need to eat sit down meals for every meal. Find a supermarket and get some quick, healthy breakfasts or light lunches. This saves money and calories. I love to see what is in supermarkets - especially abroad. Look for hotels with a kitchenette or refrigerator to keep healthy foods on hand.


Stay hydrated with lots of water - especially if you are having wine and cocktails. You will feel better, eat less and avoid headaches and even more serious health issues.



Need more ideas? Check out awesome natural foods chef, Amanda Skrip's travel tips
HERE
and
Greatist
's
24 Simple Tips for Staying Fit on Vacation
.
What are your best tips for staying fit on the road? Please share them in the comments.
Erica lives and runs in Chicago now and is training for her fourteenth New York City Marathon on November 3rd in her quest to get 15 (NYC Marathon finishes) by 2015 to be guaranteed entry for life. Erica blogs at Erica Finds. She is more of a blogging runner than running blogger, but writes on health, fitness, running, travel, deals and ideas. Basically anything that she finds that could be of interest!
Thanks Erica for your tips and tricks; they'll come in handy for sure! I don't know about y'all but I am thrilled that Erica shared these tips today, and can't wait to put them in effect. Now go say Hello to Erica @
Erica Finds
and then stay updated with her latest on
Facebook
|
Instagram
|
Twitter
.