It's that time again folks. TGIF! And that means it's time for me to share five things that have been on my mind this week. I'm going to make this week's short & sweet because Thomas is up here visiting this week/weekend! Cue confetti throwing, girly shrieks, and lots of giggling. :)
But before we get quite to my FIVE things, a couple weeks ago I started taking sponsors/ads. I just recently went back and realized I had typed my email wrong. Face Palm. So go ahead and check out my page again. I'd love to have your cute, smiling faces on my sidebar. :)
ONE| We are over halfway through January, man time flies. This past week I compiled a list of things I deemed "Must Haves" to survive January. What are some of your must have things to start off this new year?
TWO|

Follow through Friday.

From now on my weekly goals are going to start on Fridays. This past week I didn't make any goals, other than make it to the gym & drink lots of water. I knew with Thomas coming up that my gym visits wouldn't be as regular and I think I was trying to avoid setting myself up for failure. So here's to hoping this next week will go better. Fingers crossed.
THREE| If you're like me you are already thinking about the Super Bowl. And I don't mean the game, I'm talking about what happens behind the scenes in the kitchen & what to wear. Needing some ideas? Look no more. My taco soup recipe & outfits that'll score on Super Bowl Sunday are here to save the day.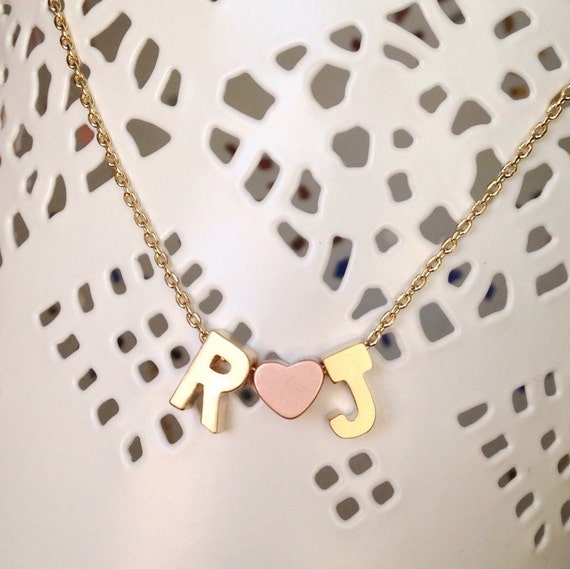 FOUR|
This. I'm not quite sure this really needs an explanation. But I'm going to anyways. I love everything about this necklace. The initials. How small the charms are. The rose gold heart. This shop is just the cutest & I would gladly take one of everything. Please, anyone, send this my way. Or I can start taking donations.

Hint, hint.
FIVE| I was nominated for the Liebster Award, by the chick behind It's the New Twenty. Come back Monday to see my answers to her crazy questions & who I've nominated. And in the mean time, check out her blog.
Enjoy your weekend my loves, I know I will :)
As I mentioned above,
Mr. Good Lookin'
has come to visit, and I couldn't be happier. Five days of pure bliss. I hate living so far away from him (four hours), but the time that we
do
spend together remind me why I am dealing with the long distance. If only we owned a jet...