finally
Friday once again. I feel like I live for Fridays--except lately I have had every day "off". Now that my student teaching assignment is over I spend my time aimlessly and carelessly. I do still have my Saturday & Monday night classes--but I refuse to think about those on this
wonderful
Friday. Because today starts another road tripped filled weekend. As I mentioned
last week
Thomas and I will being spending our weekend celebrating my best friend's 23rd birthday in Charlotte. Excited does not come close to describing my feelings and anticipation for tomorrow at 1pm.
This Friday I am linking up once again
Five on Friday edition.
ONE
--I am currently in a love/hate relationship with my tanning bed package. If I do not tan all winter I look as if I'm related to Casper the Ghost--this isn't the problem this winter though. I got an
amazing
deal at the tanning bed this fall/winter. Here's where my emotional roller coaster feelings come into play. I love the deal & want to get my money's worth of the plan I bought (unlimited until 12/31).
Buttttt,
I
do NOT
want to look like a Dorito in the middle of winter. I find it
very
unattractive when girls look similar to an oompa loompa; and I have had my
share
in looking that way & don't fancy trying it out again. Oompa Loompa doesn't look good on me; it's
not
my color! HELP!!
TWO
--Knitting. I love it. Grandma status over here. I had to learn how to knit for one of my elementary education classes--still not quite sure how it lines up with the Common Core
but whatever.
Anyways, I've picked it back up recently. I am on a mission to knit some Christmas presents for friends & family--
aka: how I'm disguising my obsession for knitting.
I think my boyfriend has already caught on though. Oh well.
THREE
-- I've mentioned before that my boyfriend is
the
chocolate lover of all chocolate gurus. Earlier this month I made
M&M Blondies
. They were a success; but did not look quite as tasty as times I have made this in the past.
But
thankfully, they are still a fan favorite & my boyfriend requested them again this week.
I took this chance to try a little bit different recipe, used the
boring
regular M&M package, & I'm actually going to use the correct pan this time. *face palm* Last time, I used a glass pan because it was the smallest pan we had. I knew better than to use this pan; but the boyfriend was expecting blondies and I was going to deliver. Just a little darker blondies than usual
. Oops.
FOUR
--If you haven't seen The Internship yet; go ahead and do yourself a favor and rent it. It is hilarious; like rolling around on the floor funny. But don't take my word for it--see for yourself. Go ahead. Get your booty off your couch. Hop into your car. And drive to the nearest red box. Rent a movie for free (
aka: The Internship
) using this code:
NW2PCLP3
(expires Dec. 3).
FIVE
--I did it people. They said I couldn't do it. But I did. Okay, so nobody actually said I couldn't do it because they didn't know I was determined to start this week. BUT--I did it.
I worked out for five days in a row.
I actually enjoy working out;
seriously
. Odd I know. But if I can get my lazy booty into the gym then I am good to go & I feel
amazing
afterwards. It's just making myself walk the 1/2 mile to our fitness center that gets me every time; told ya--lazy. Thomas and I made a pact regarding working out. Stay tuned to see how that turns out...
haha
SIX
-- 1. I know its "
FIVE
on Friday" but I just wanted to sneak this one in there. 2. I feel that is
completely
necessary to restate the fact that my best friends turned 23 on Wednesday (goodness we're getting old). And I get to see her
tomorrow
to celebrate!!! Man, I've missed this girl!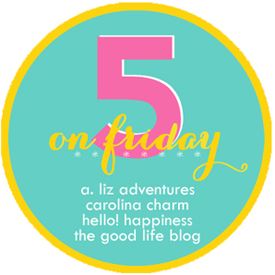 Enjoy your weekend my loves. TGIF.
Ahhh it's