If you saw
yesterday's
post; I mentioned that I spent my Saturday night baking. I absolutely love baking (also mentioned
here
) and it is a great stress reliever for me. Although, my hips and pants tend to have a love-hate realationship with my stress-relieving habit.
When I was on one of my pinning marathons this weekend I got some
pin-spiration
from the oh-so-popular Pinterest, and decided to make
these
SUPER easy pumpkin muffins.
And
it only requires 5 ingredients--sounds right up my alley. For those of you that would love to make a fall treat but can't find the time
this
is your go to recipe.
Pumpkin Muffins:
Ingredients:
1 (18.25 oz) pkg spice cake mix--(can substitute yellow cake mix)

1 (15 oz) can pumpkin puree

1 tsp ground cinnamon

1/2 tsp ground nutmeg

1/4 tsp pumpkin spice




Instructions:
Pre-heat oven to 350 degrees.

Mix together all the ingredients in a large mixing bowl.

Grease cupcake tin with non-stick spray or put cupcake liners in the tins.

Fill cups 2/3 of the way.

Bake for 20-25 minutes.
and
Enjoy
your
f
a
l
l
treat!
On a side note; my little kiddos made my day today; actually they make my day everyday. They are hilarious. It's true, "kids say the darndest things." Here's a sample of there latest masterpieces: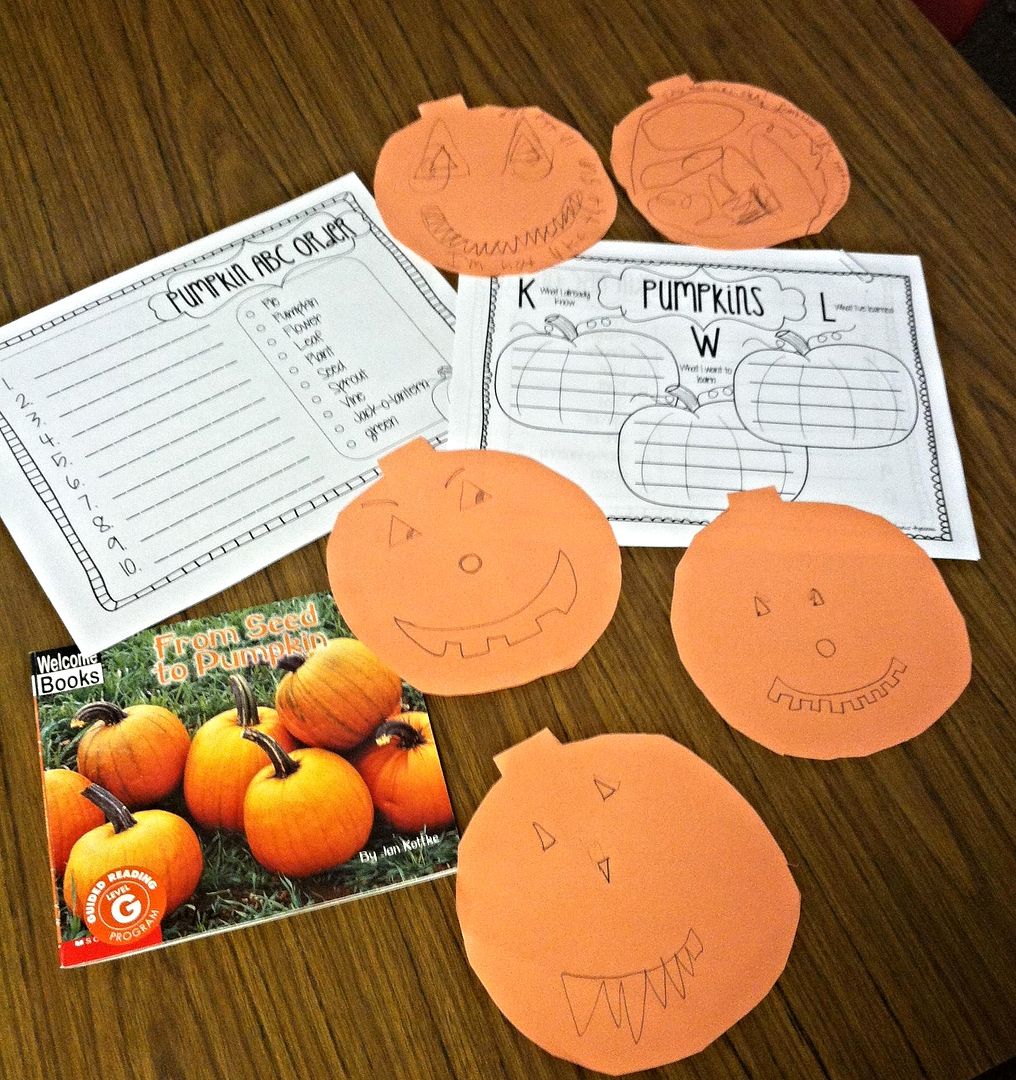 Their little jack-o-laterns are so cute. And hearing them describe them was even cuter.
If you have never checked out the site www.teacherspayteachers.com and you work with children, you my dear friend are missing out! It is all great quality materials and often you can find free downloads--free 99 makes my broke, college account very very happy!
*Parts of this lesson were found on Teachers Pay Teachers. My students have completed a lot of different activities involving pumpkins. Including, a story on how a pumpkin grows. The book we read in class, before the writing activity, was From Seed to Pumpkin by Jan Kottke. The activity incorporates writing, specifically "transition words" and the sequence of a story. The transition words activity/book can be found here.
Other pumpkin activities that we have done in class can be found here, here and here.
Have a great rest of the week my loves!